*Worldwide Shipping*
For Malaysia, Indonesia and USA buyers who do not have Paypal:
Now you can buy our dolls from our importers:
All details, please visit
here
---------------------------
Octrine
octrinealviana@gmail.com
All details, please visit here
---------------------------
ifandomkpopshop@yahoo.com
All details, please visit
here
**Anyone who interest to be importers in your countries, you can contact us and we will offer you the very special price: inhyeongnim@gmail.com , please read the rules first if you are interested**
"My Inhyeong-nim" K-Pop Phone Strap/Key Chain Handmade Doll...
is made to order product which is neatly handmade with our heart. We design and make all products by ourselves.
ABOUT US:
History + Donghae's Nemo Story
*We have NO STOCK, every doll is made to order. Thus, there is making time before shipping and we will start making your order after receiving payment ONLY*
Material: Polyester Felt
Size: Width 4 cm. x Height 7 cm.
Price: 6USD each
Type of item: (Phone Strap/ Key Chain)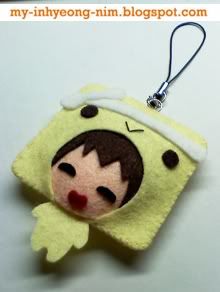 *NEW UPDATE*